D'Addiction Dance Team bags Rs.30000 with First Prize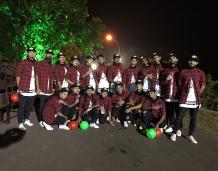 The D'Addiction dance team of the College, led by Mr. Anand E. T., Trade Instructor in EEE Dept., and comprising of 19 students secured the first prize and bagged Rs. 30000/- in Dhyuthi' 17, a...
Dr. Agnisarman Namboothiri honored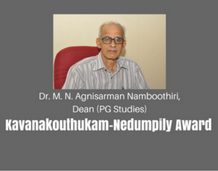 Dr. M. N. Agnisarman Namboothiri, Dean (PG Studies), has been selected for the Kavanakouthukam-Nedumpily Award for the best mukthakam published in the Malayalm monthly Kavanakauthukam in the year...
S7 B Tech (EEE) student gets merit award from AEA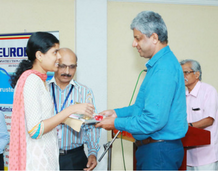 Anjali M (S7 B. Tech. (EEE)) was presented a merit award in a function organized by the Architects & Engineers Association (AEA) as part of the 50th Engineer's Day celebration of the Association.
VAST is now a member of the UNAI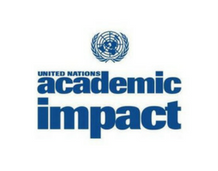 Vidya Academy of Science and Technology is now a member of the United Nations Academic Impact (UNAI).
Hasti Griha, startup fetches grant of 2 lakhs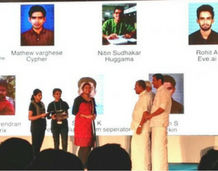 Kerala Startup Mission (KSUM), the implementing agency of Government of Kerala for entrepreneurship development and incubation activities in Kerala, conducted a programme called "IEDC Summit" on...
NSS Units of Vidya partner with SRS for skill training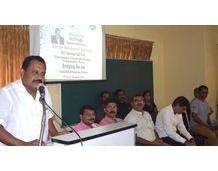 Social Research Society (SRS) India, in association with NSS Technical Cell, Vidya Academy of Science and Technology, organized a three day residential training and placement drive at VAST during 4...
NSDMA-2017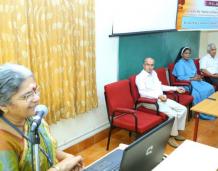 The Centre for Studies in Discrete Mathematics (CSDM) functioning in the Deparment of Applied Sciences in the College organised a National Seminar on Discrete Mathematics and Applications...
Third place in Calicut University Yoga Championships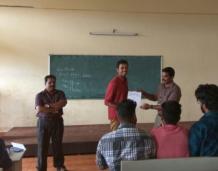 Krishna Prasad K P of S7 EEE secured the Third place in Yoga (Men) in the Calicut University Inter Collegiate (Inter Zonal) Championship (TEAM) held in the College during the year 2016-2017.
Vidya gets ISRO project worth 13.14 lakhs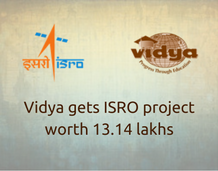 The Indian Space Research Organisation (ISRO) has sanctioned an amount of Rs.13.14 lakhs for carrying out a project titled "Prediction of Process Induced Deformations and Residual Stresses in Fiber...
Ecosystem Award 2017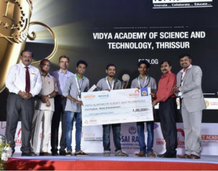 Mr. Sarath Sasikumar (S4 ECE B) and his team of 2 members (Sethu E P, S4 ECE B & Athul P S, S4 ECE A) has won the first prize worth Rs. 1 lakh for their project.
ISTE Best Chapters Award 2016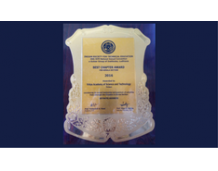 Vidya Academy of Science and Technology, Thrissur has been awarded the Best Chapter of ISTE Kerala Section during the 46th Annual Convention of ISTE on 10th, 11th & 12th February, 2017 at Gulzar...
Yuva Mastermind Best Project Award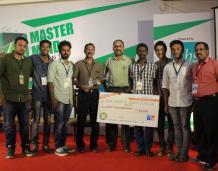 Vidya Academy of Science Technology ,final year mechanical engineering students project "INVOKE" an exercise machine for Paralyzed got Prof Satish John Memorial Best Project for "Ardram"(an award...
Rank Holders
Electronics & Communication Engineering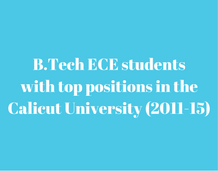 B.Tech ECE students with top positions in the Calicut University (2011-15)
Second Prize in SWACHHATHON 1.0
Computer Science & Engineering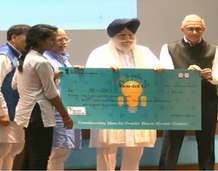 Aishwarya P G of S7 CSE A got second prize in SWACHHATHON 1.0- (SWACHHTHA HACKATHON SWACHH BHARAT MISSION (GRAMIN)) conducted by Union Ministry of Drinking Water and Sanitation for sanitation...
SERB grants project worth 30 lacks to Vidya
Mechanical Engineering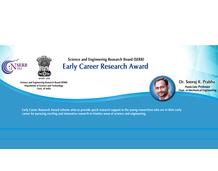 Science and Engineering Research Board (SERB), Department of Science & Technology, Govt. of India, has sanctioned a research project titled "Determination of energy and momentum accommodation...
ECOSYSTEM AWARD 2017
Electronics & Communication Engineering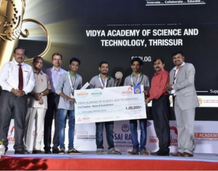 Sarath Sasikumar, Sethu E.P of s4 EC B and Athul of s4 EC A [2015 admn] won the first prize in Dr. APJ Abdul Kalam Innovation Ecosystem Awards 2017