Vidya Academy of Science & Technology
A unit of Vidya International Charitable Trust
Vidya team wins title at APJAKTU Women Table Tennis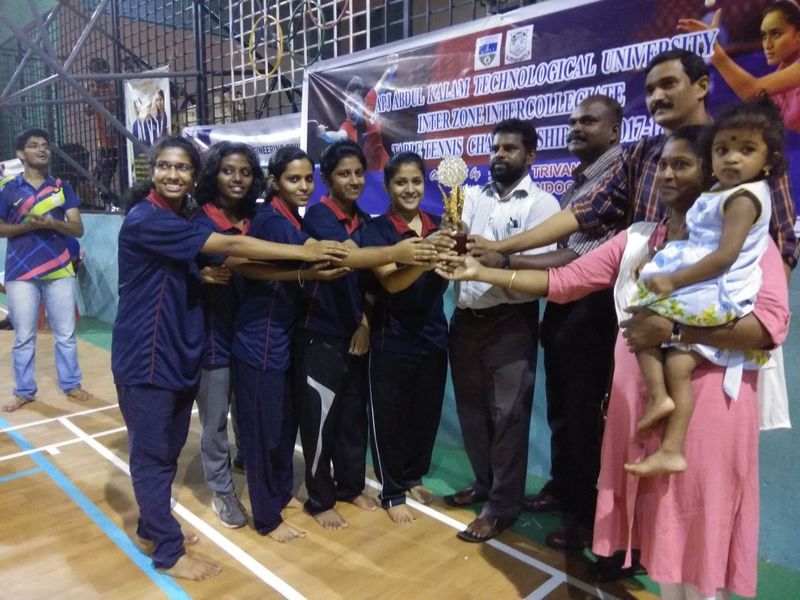 The table tennis women team of the College has secured the Champions Title in the All Kerala APJAKTU Women Table Tennis Championship held at College of Engineering, Trivandrum.
Team Members
Denna Rose Francis (S3 BTech (CSE))
Amrutha (S5 BTech (EEE))
Aleesha T Anwar (S5 BTech (CE))
Gopika Rayiparambil (S5 BTech (CE))
Shikha C (S3 BTech (CE))
Denna Rose Francis has been selected to represent APJAKTU Table Tennis team in the South India Inter University Championship to be held at SRM University, Chennai.
Information
Address
Vidya Academy of Science & Technology
Kurumal,Thalakottukara P.O., Near Kaiparambu, Thrissur - 680501, Kerala, India
Phone: +91 4885 287751, 287752
Fax: +91 4885 288366
E-Mail: principal@vidyaacademy.ac.in
locate us
Affiliated to APJ Abdul Kalam Technological University & University of Calicut Approved by AICTE | ISO 9001 : 2008
Copyright © 2016, www.vidyaacademy.ac.in. All Rights Reserved.