Vidya Academy of Science & Technology
A unit of Vidya International Charitable Trust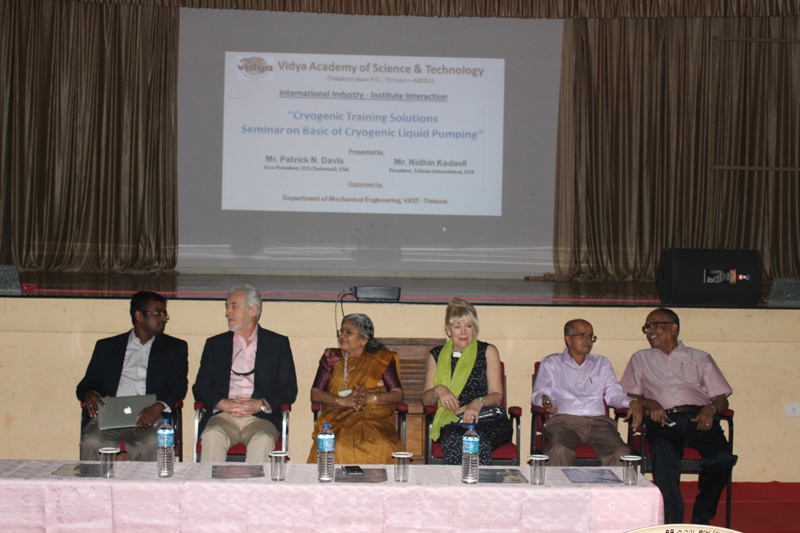 The seminar was an International-Industry Interaction Programme, took place on 16th January 2017 at the Auditorium of Vidya Academy of Science & Technology, Thrissur. The resource persons arrived at the venue at 10:45 AM and the seminar started at 11:00 AM, after a function for welcoming the guests and dignitaries, in and off the dais and the participants.
Two eminent engineers from USA were the speakers for the seminar. First speaker was Mr. Patrick N Davis, who is currently the Vice President of Carter Cryogenic Services (CCS), USA. He has over 35 year experience in the cryogenic pumping and holds many patents in cryogenic pumping improvement technologies. Second speaker was Mr. Nidhin Kadavil, who is currently the President of TriSeas International, USA.
The seminar was attended by respected Principal, Dr. Sudha Balagopalan, Executive Director Er. G. Mohanachandran, Author Trustee and EC member, VICT, Er. K. G. Sukumaran, Heads and faculty members of various departments and final year B-Tech students of all branches. Approximately there were 300 participants in the Auditorium.
The programme started with a prayer. Afterwards Ms. Swathika K. S. (S8 ME B), welcomed all the dignitaries on and off the dies and handed the function over to Principal, Dr. Sudha Balagopalan for presidential address. It was followed with the message of the day by Executive Director Er. G. Mohanachandran. Afterwards the resourse persons were introduced and the technical talk was declared open by VICT, Author Trustee and EC member Er. K. G. Sukumaran.
The seminar was opened by Mr. Nidhin Kadavil and he introduced the topic "Cryogenic Training Solutions & Basics of Cryogenic Liquid Pumping". Mr. Patrick N Davis gave an overview about the company, Complete Cryogenic Services, Inc. and mentioned their responsibilities and operations in the global scenario of Cryogenic requirements. Then the two resource persons together delivered a seminar on the basics of Cryogenic Liquid Pumping. They discussed in detail about the basics of pumping, Cryogenic liquid gases, Commercial Cryogenic Pumping, various applications etc. citing many real-life examples. They also discussed in length about the Engineering Challenges associated with Cryogenic Pumping, with the help of different designs of Cryogenic Pumps. Mechanical, Hydraulic, Electric, Material Science & Instrumentation design considerations were also briefly explained.
The session then continued with relevance of Cryogenic Liquid Pumping in a fastest growing industry like LNG Industry and what are the career profiles and outlook of an Engineer, associated with Cryogenics, in those industries. Names of Cryogenic Pump Makers, LNG Engineering Consultants, LNG Owners, LNG Carriers, Petrochemical Owners etc. were cited on this context.
During the closing remark, Mr. Nidhin Kadavil explained about the importance of an Advanced Training in Cryogenic Pump & LNG Plant Design and the availability of such a course.
Afterwards the seminar, the guests were honored by giving mementos and a thanking note by Executive Director Er. G. Mohanachandran and Er. K. G. Sukumaran.
In the end, Mr. Sreekanth Unni (S8 ME B) delivered the vote of thanks to all the invited guests and participants for gracing the occasion by their solemn presence.
It was then followed by an Industry-Institute interactive session, among the resource persons,Faculty and students of various departments.
Official programme came to an end by 12.30 PM.
Information
Address
Vidya Academy of Science & Technology
Kurumal,Thalakottukara P.O., Near Kaiparambu, Thrissur - 680501, Kerala, India
Phone: +91 4885 287751, 287752
Fax: +91 4885 288366
E-Mail: principal@vidyaacademy.ac.in
locate us
Affiliated to APJ Abdul Kalam Technological University & University of Calicut Approved by AICTE | ISO 9001 : 2008
Copyright © 2016, www.vidyaacademy.ac.in. All Rights Reserved.