Vidya Academy of Science & Technology
A unit of Vidya International Charitable Trust
Celebration of the PC Ray Chair Award by INSA
The theme of EPSCICON 2018 Conference was interdisciplinary in nature and covered five broad areas of engineering, namely, Power & Energy, Control & Vibration, Signals & Image Processing, Computation & Linear Algebra and Statistics. The Conference began on 06.01.2018 with a grand inaugural ceremony with many distinguished dignitaries adorning the dais and came to an end on 10.01.2018. A special feature of the inaugural ceremony was the celebration of the award of the prestigious PC Ray Chair to Prof Biswa Nath Datta of Northern Illinois University by Indian National Science Academy (INSA). On the inaugural day there was a contest named AASHCHARYA for spotting the the best innovative ideas among school children. The winners of the competition were presented certificates and cash prizes.
During the Conference there were plenary talks by academicians from around the world, workshops by internationally known experts and paper presentations by young researchers.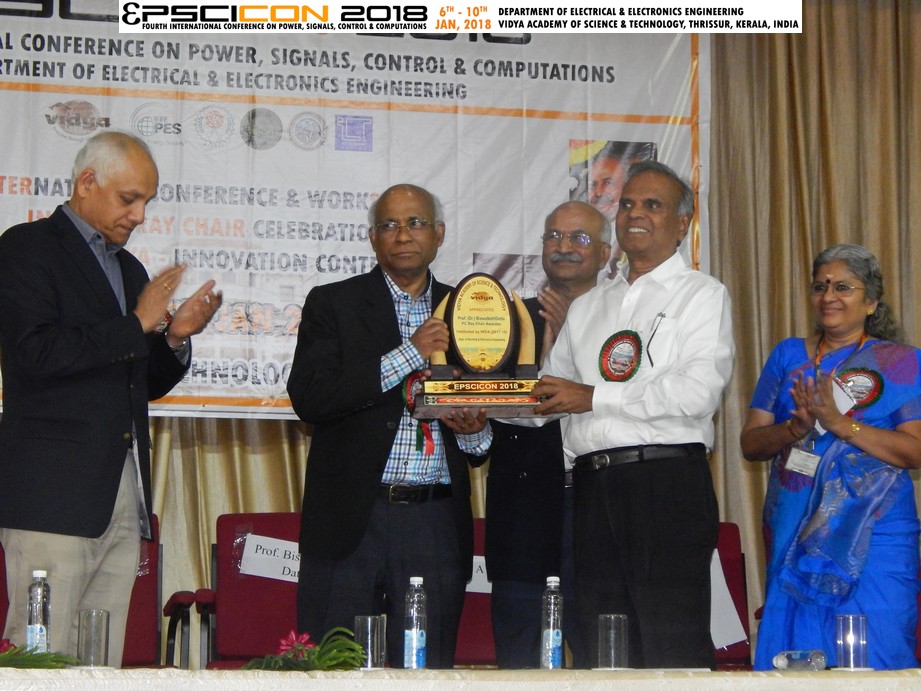 Information
Address
Vidya Academy of Science & Technology
Thalakottukara P.O., Kecheri, Thrissur - 680501, Kerala, India
Phone: +91 4885 287751, 287752
Fax: +91 4885 288366
E-Mail: principal@vidyaacademy.ac.in
locate us
Affiliated to APJ Abdul Kalam Technological University & Approved by AICTE | ISO 9001 : 2015
Copyright © 2019, www.vidyaacademy.ac.in. All Rights Reserved.