Vidya Academy of Science & Technology
A unit of Vidya International Charitable Trust
Computer Science & Engineering

Phone / Email
04885287751
04885287752
csehod@vidyaacademy.ac.in
ABOUT US
The Department offers B.Tech and M.Tech degree. The Department has a comprehensive curriculum on topics related to all aspects of Computer Hardware and Software with an emphasis on practical learning. The course structure is up-to-date and includes courses on nascent topics to equip students with the latest developments.
The labs have 250 PCs with latest configurations running Windows as well as Linux and a number of other high-end multiprocessor servers. Two dedicated leased lines, 100 Mbps BSNL(1:4), 10Mbps Asianet (1:1) and one broadband connection NMEICT up to 30 Mbps connections serve the labs and the rest of the campus. Specially equipped classrooms provide on-line computing facilities.
Vision
Progress through quality education and become a centre of excellence in computing knowledge..
Mission
To seek, to strive for advancements in technological and social aspects so as to create socially responsible engineers in the field of computer science, who will embark to further reduce gap between science and man-kind.
PSOs, PEOs & POs
Program Specifc Outcomes (PSOs)
PSO 1: Problem solving skills: Ability to apply the knowledge of mathematics, computational structures and principles of programming to solve real world problems.
PSO 2: Software Development & Management: Ability to analyze, design, develop, test and maintain application and system softwares by applying standard practices and strategies in software project development.
PSO 3: Applications of Computational Intelligence: Ability to apply computational intelligence and modern technologies to the emerging areas in industry to innovate ideas and applications.
Program Educational Objectives (PEOs)
PEO-1: To bring the physical, analytical and computational approaches of CSE to bear on the challenges they take on, abstracting essential structure, recognizing sources of uncertainty, and applying appropriate models, technical tools, and evaluations to develop their solutions.
PEO-2: To bring to their careers the self-assurance, integrity, and technical strengths that drive innovation and the communication and collaboration skills to inspire and guide the groups they work with in bringing their ideas to fruition.
PEO-3: To develop abilities and talents leading to creativity and productivity in fields and professions beyond the regular CSE curriculum.
PEO-4: To promote life-long self learning abilities to remain professionally effective to the society.
PEO-5: To promote among graduates the ability to gain multidisciplinary knowledge through projects and industrial training, leading to a sustainable competitive edge in R&D and meeting societal needs.
PEO-6: To inculcate group work and team management skills with cross-cultural etiquettes, promoting knowledge transfer leading to conceptualization and delivery of projects with varied complexity.
PEO-7: To sensitize graduates towards issues of social relevance, openness to other international cultures and to introduce them to professional ethics and practice.
Program Outcomes (POs)
POs describe what graduates are expected to know or be able to do by the time of graduation from the program. After completion of the course, B. Tech Computer Science and Engineering graduates will have:
1. An ability to apply knowledge of computing, mathematics including discrete mathematics, probability, statistics, science and engineering fundamentals appropriate to the discipline.
2. An ability to design and conduct experiments, as well as to organize, analyze and interpret data to produce meaningful conclusions and recommendations.
3. An ability to design, implement, and evaluate a computer-based system, process, component, or program to meet desired needs within realistic constraints such as economic, environmental, social, political, ethical, health and safety, manufacturability, and sustainability.
4. An ability to analyze, identify, formulate and solve hardware and software based computing problems accounting for the interaction between hardware and software appropriate to its solution using current techniques, skills, and modern engineering tools
5. An ability to analyze the local and global impact of computing on individuals, organizations, and society.
6. Knowledge of contemporary issues in the social sciences and the humanities using computational tools.
7. An understanding of professional, ethical, legal, security and social issues and responsibilities.
8. An ability to function effectively individually and on teams, including diverse and multidisciplinary areas, to accomplish a common goal.
9. An ability to propose original ideas and solutions, culminating into a modern, easy to use tool, by a larger section of the society with longevity through effective communication in speech and in writing, including documentation of hardware and software systems to customers/users or peers.
10. An ability to recognize the importance of professional development by pursuing postgraduate studies or face competitive examinations that offer challenging and rewarding careers in computing globally.
11. An ability to apply engineering and management knowledge and techniques to estimate time and resources needed to complete a technical project.
12. An ability to have an entrepreneurial mindset to apply knowledge of engineering and management to one's own surrounding environments.
HOD

M.Tech, Ph.D
04885287751 Ext : 196
Previous Experience :- 18 Years in academia and research, 4 years in Industry and education training.
Areas of Interest :- Scientific / Symbolic Computing, Data Science and Analytics.
ACTIVITIES
CSE Dept organises 6-day FDP on Theory of Computation
The CSE Dept of the College conducted a 6-day FDP on "Theory of Computation" during 16th to 21st of April 2018. The objective of the FDP was to provide an in depth theoretical knowledge about various computational techniques used in computer science. The course content of the FDP was devised in such a manner as to cover the syllabus of the course CS301 Theory of Computation of APJAKTU B Tech (CSE) curriculum. The programme was targeted at the faculty members of AICTE approved engineering colleges in Kerala.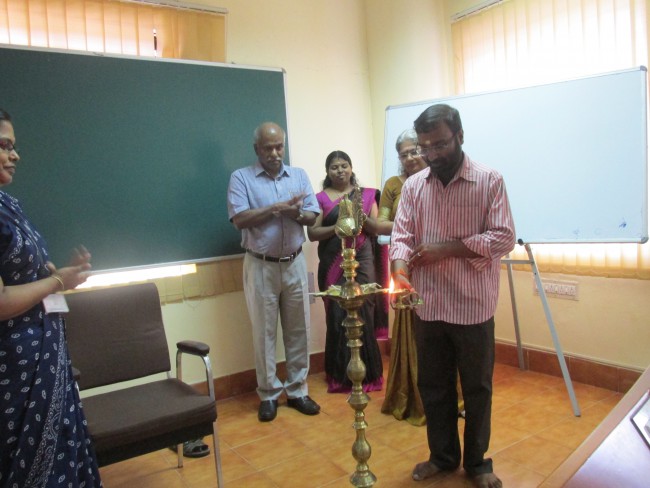 The inaugural ceremony was held on 16.04.2018 at Advanced Computer Lab. Dr Ramani Bai V (HoD, CSE Dept) welcomed the gathering. Dr Sudha Balagopalan, Principal, presided over the function. Prof Anilkumar S, Chief Guest and the resource person for the FDP, inaugurated the function. Sri Suresh Lal, Finance Director, felicitated the occasion. Ms Remya P S, Asst. Professor & Coordinator of the FDP, delivered vote of thanks.
Prof Anilkumar S, Asst. Professor, Govt Engineering College, Idukki, is a passionate teacher. He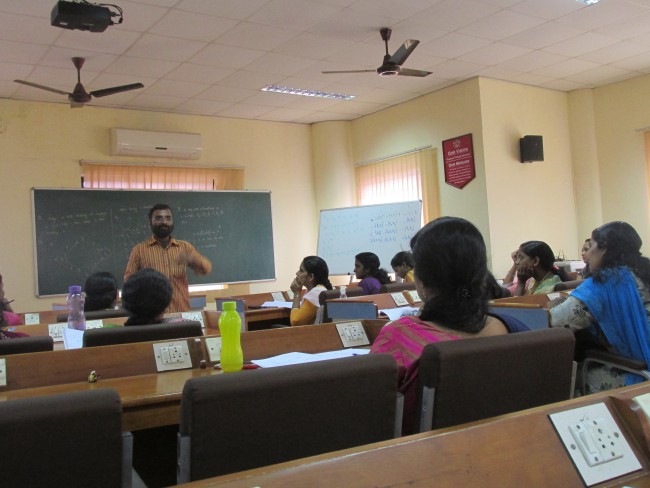 received the Best Teacher Award in the year 2007 while working at Rajiv Gandhi Institute of Technology, Pampady, Kottayam. His areas of interest include theoretical computer science, real and complex analysis, and digital image processing. During the FDP, he covered formal languages, Chomsky classification of formal languages with discussion on grammar and automata for regular, context-free, context sensitive and unrestricted languages. The notions of decidability and halting problem were also explained in detail.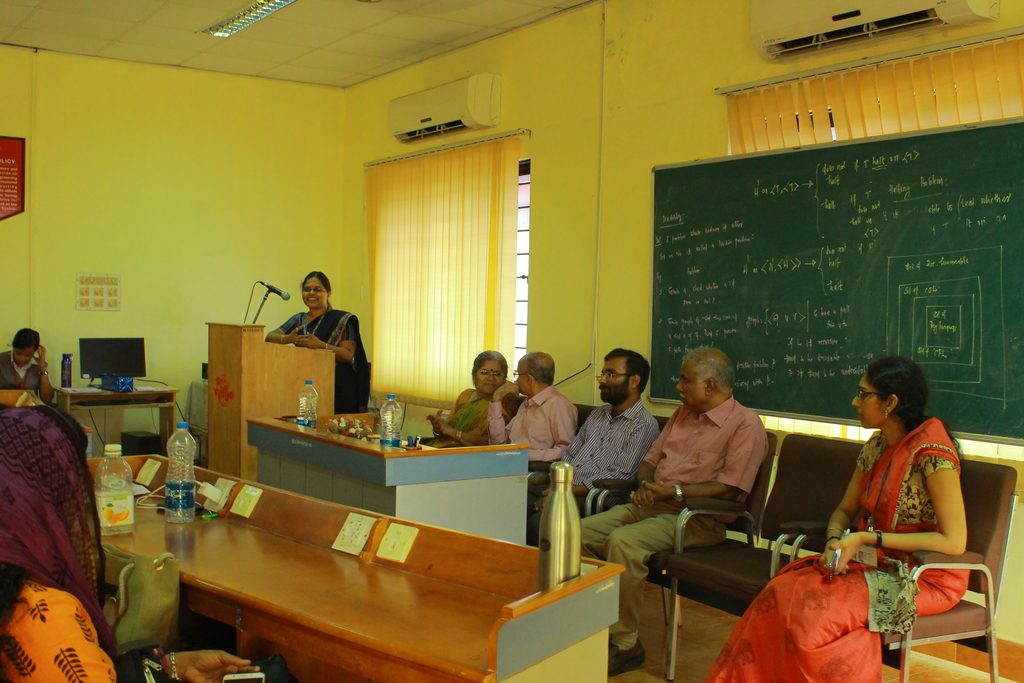 The FDP was concluded with a valedictory function in the presence of Dr Ramani Bai V, Prof. Anilkumar S, Er G Mohanachandran, Dr Sudha Balagopalan and Sri Suresh Lal. Ms. Mahalakshmy A, Asst Professor and Coordinator of FDP, delivered vote of thanks. Certificates were distributed to the participants and few participants came forward to give their valuable feedback.
CSE Dept launches ACM Student Chapter, observes CSE Merit Day, . . .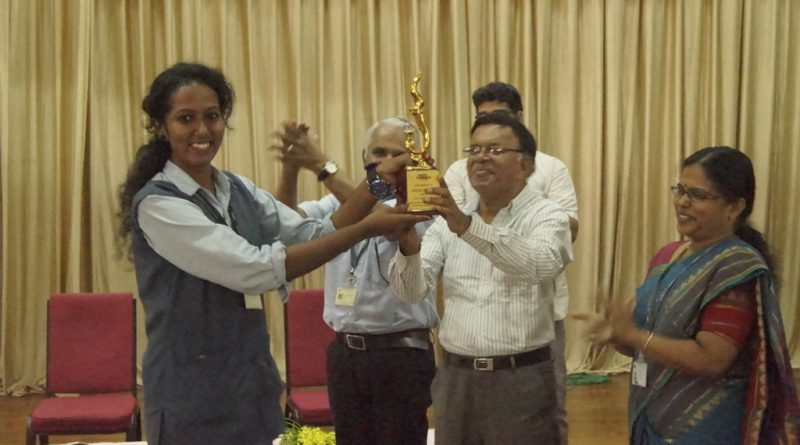 It was an eventful and memorable day for all students, faculty and staff of the CSE Dept of the College. It was a day on which the Dept organised a host of activities all centred on students: their achievements, their activities. No one name can indicate all the activities.
The programme started at 1.45 pm on 26.03.2018 in the Auditorium with a prayer and Rangapooja. This was followed by presentation on the various activities conducted by the Dept during the year 2017-18. Dr. Ramani Bai V (HoD, CSE) welcomed the gathering. Dr. Sudha Balagopalan, Principal, presided over the event.
Inauguration of ACM Student Chapter
During the programme, a Student Chapter of ACM was officially inaugurated by Er. K P R Vijayan, Author Trustee, VICT. The Association for Computing Machinery (ACM) is an international learned society for computing. It was founded in 1947, and is the world's largest scientific and educational computing society. It is a not-for-profit professional membership group. Its membership is more than 100,000 as of 2011. Its headquarters are in New York City.
Launching of the Dept Newletter
As a component of the events, Dr. Krishnachandran V N, Vice-principal and HoD of MCA Dept, officially launched the CSE Department News Letter 2017-18. He also felicitated the occasion.
Mr. Abishek Nandakumar of S6 CSE delivered vote of thanks. The function adjourned at 4.00
FDP on Machine Learning Using Python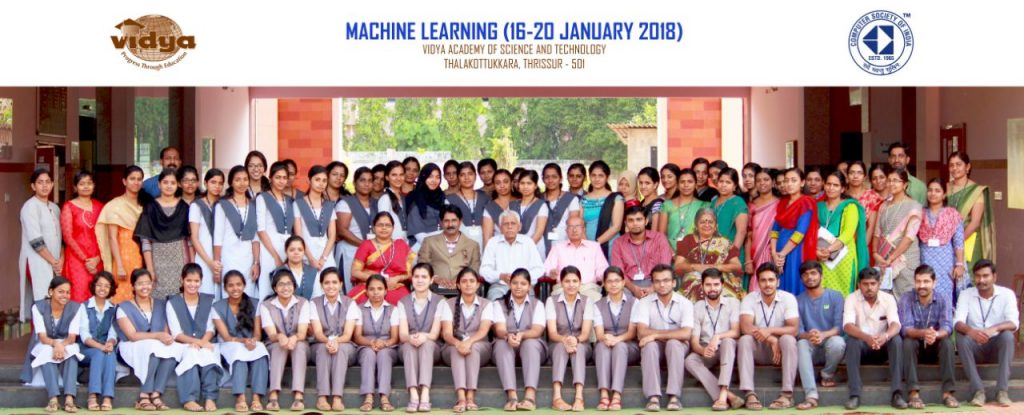 THE CSE Dept of the College, in association with the Computer Scociety of India (VAST Student Branch), conducted a 5-day Faculty Development Programme (FDP) on "Machine Learning Using Python" during 16-20.01.2018. The objective of the FDP was to provide hands-on training in machine learning techniques and their applications. The topics were selectd approximately as per the APJAKTU M Tech curriculum. The FDP was targeted at faculty members, research scholars, industry persons and PG students.
CSE Dept organised TCS technical session on "Machine Learning & R Programming"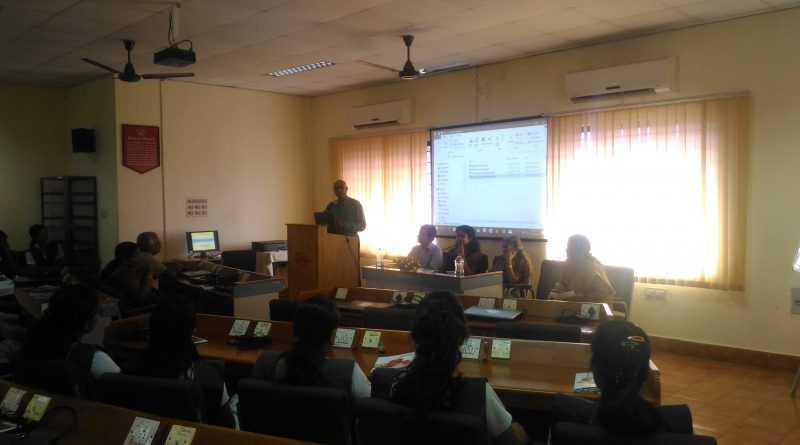 The CSE Department of the College, jointly with the Training and Placement Cell, organized a one-day technical session on machine learning and R programming on 15.11.2017.
The programme started with a brief inaugural ceremony. Dr. Ramani Bai V (HoD, CSE) welcomed the gathering and Mr. Paul Chackola, Training & Placement Cell Director, introduced the resource persons. Dr. Sudha Balagopalan, Principal, delivered the presidential address and inaugurated the session. Sri. Sumy Kuriakose felicitated the participants.
The technical sessions were handled by Mr. Vishnu S Nair, Business Analyst and Academic Relationship Manager at TCS. There were two sessions. The forenoon session was focused on R Programming. The afternoon session was devoted to introducing the basic conceptual framework of the machine learning environment. In particular, the resource person talked about supervised and unsupervised learning, hypothesis testing, linear regression and logistic regression. As many as 40 students and faculty members attended the sessions.
Infosys Train the Trainer (TTT) Program on Software Testing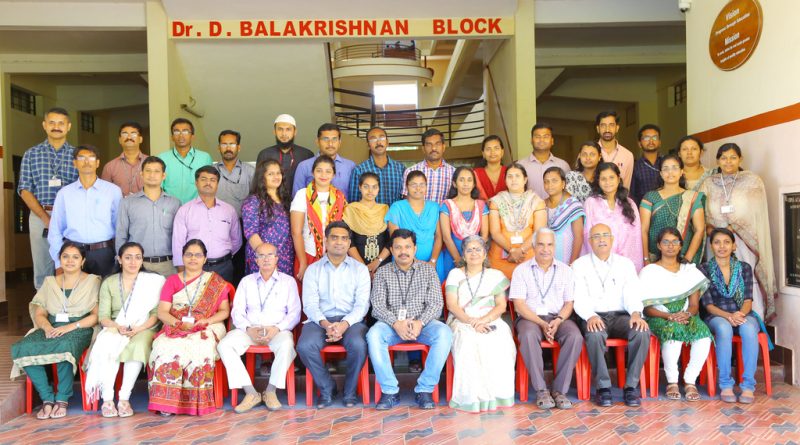 The CSE Dept of the College, jointly with the Training & Placement Cell, organised a 3-day Train The Trainer (TTT) program of Infosys under the Campus Connect Program during 06-08.12.2017. The programme was on Software Testing and Test Automation using the Selenium freeware tool.
The workshop was attended by as many as 21 participants from institutions outside Kerala state and engineering colleges in Kerala. As many as seventeen faculty and staff members of the College attended the pregramme.
The inaugural ceremony was held on 06.12.2017. It was presided over by Er. G. Mohanachandran, Executive Director, VICT. Dr. Sudha Balagopalan, Principal, Dr. V N Krishnachandran, Vice-Principal, Dr. Ramani Bai V, Head of CSE Dept. and Mr Paul Chakola, Head of T&P Dept, spoke on the occasion.
The sessions were handled by Mr. Harish Saidu and Mr. Hari S, both from Infosys Ltd., Thiruvananthapuram Development Centre. The workshop concluded with a valedictory function held on 08.12.2017.
CSE Dept organises three-day workshop on Statistics for Data Science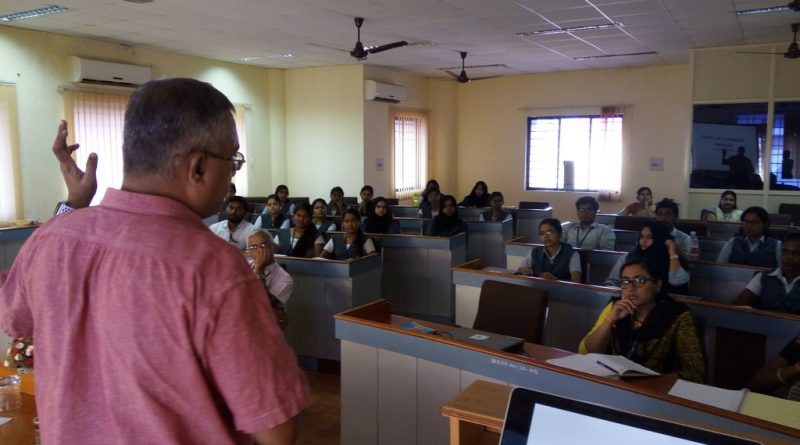 The Department of Computer Science & Engineering of the College, in association with Computer Society of India (CSI), organized a three-day workshop on "Statistics for Data Science" for the benefit of the faculty and students of the College. The sessions were held on 2.11.2017, 13.11.2017 and 14.11.2017. The inaugural function was held on 2.11.2017. Dr. Ramani Bai V (HOD, CSE) welcomed the gathering and Dr. V N Krishnachandran (Vice-Principal) inaugurated the session. Ms. Sunitha C (Coordinator) proposed vote of thanks. The technical sessions were handled by Mr. Sanjeev G Menon (CEO & MD, SPOTLIGHT TECHNOLOGIES CONSULTING). The workshop included sessions on fundamentals of statistics and probability, applications of statistics for data modeling and industrial perspectives of statistics. As many as 32 persons attended the sessions including faculty, M Tech students and external participants.
Two day workshop on "Web Development"
Vidya Academy of Science and Technology ,department of computer science and engineering conducted a two day workshop on "Web Development" in association with IEI &CSI On 24-03-2017 to 25-03-2017 at computer center, decennial block. Rajasekar P M ,JASS solution was our Resource person. He had excellent knowledge in web development. He tried to cover all the important topics of web development like css,html,php etc. based on the schedule planned. Around 56 participants attended the workshop including faculties and students .
Welcome address was delivered by Ms. Nitha K P (Assistant Professor, Dept. of Compter Science and Engineering).The function was inaugurated by Dr. V.N. Krishnachandran (Vice Principal & HOD , VAST). Ms. Beena M.V(Assistant Professor, CSE) felicitated the occasion. After the inaugural ceremony, started the hands on sessions.
First day ,deal with the basis of web development using HTML then CSS. Finally all developed a mini website. Second day ,started with basis of PHP. PHP was more user interactive and easier language to understand. Rajasekar sir helped to acquire knowledge in this field. This workshop was more interactive and self studying. The two day workshop on web development become more useful to everyone especially for the students those who are doing consultancy project related to web designing.
Participants :
27 Students of S6 CSE
Staff :
Sunitha C, Amal Ganesh, Beena M V, Aswathy M R, Remya P C, Sivadasan E T, Nitha K P,Vidya M,Greeshma Gopinath, Remya P S, Jucy Vareed, Divya K V, Geethu P C, Ayana Ajith, Salitha K K,Parvathy P R, Mahalakshmy A, Remisha Ravindran, Resmi K Rajan, Sreerag Sreenivasan, Sreeja K, Jesna C G, Siji M S, Arun lal, Sreekumar, Lalini K U
Three day FDP on " Natural Language Processing & Machine Learning "
The Department of Computer Science and Engineering in association with CSI, IEI & ISTE organized a three day Faculty Development Program on " Natural Language Processing & Machine Learning " on 1st,23rd & 24th of September 2016. Dr P C Reghu Raj(Principal GEC Sreekrishnapuram) handled first session on Computational Linguistics and Mr Ajeesh Ramanujan(Asst Professor,GEC Sreekrishnapuram) handled a session on Support Vector Machines on 1 Sep 2016. Mr Jayakumar T V(Asst Professor,Vidya Academy of Science & Technology) handled the sessions on Introduction to Python,Introduction to Numpy and Matplotlib,Installing scikit-learn &Visualizing data set,Linear Regression,SVM and Decision Tree Classifier and K -Means Clustering during 23rd and 24 Sep 2016
Three day FDP on "Ethical Hacking"
The Department of Computer Science and Engineering in association with Computer Society of India ( CSI) conducted three day FDP on "Ethical Hacking" on 14-16 January 2016. Mr. Shanil K.N ( Asst.Professor, CSE-VAST) handled the sessions on Introduction to Ethical Hacking, System Hacking- Unauthorized Access to a System, Scanning Networks – Discovering Host Properties, Sniffing, SQL Injection and Denial of Service (DoS).
Inauguration of CSE Department Association
The inauguration of Department Association of Computer Science and Engineering was conducted on 24th July 2015. A 2-day workshop on Matlab was also organized in association with this, for S7 students and faculties .The function was inaugurated by Dr. Sudha Balagopalan (Principal VAST). The launching ceremony of CSE Department website was also included on the same event, which was done by Mr. Jaimon Jacob(Assistant Professor, Govt Model Engineering College). After the inaugural procedure Mr. Jaimon Jacob delivered a technical talk on "innovative Projects on Image Processing using Matlab" and thereafter handled the hands-on session. On the 2nd day of workshop was handled by Mr. Manish.T.I (Associate Professor, MET'S School of Engineering, Mala).
Two day workshop on "MATLAB"