Vidya Academy of Science & Technology
A unit of Vidya International Charitable Trust
Production Engineering

Phone / Email
04885287751
04885287752
pehod@vidyaacademy.ac.in
About US
The four-year B.Tech Programme of the Department admits 60 students each year. Production Engineering is a relatively new engineering discipline and the course has been specifically added to address the ever increasing needs of the industrial and manufacturing sector for which, a very high growth is foreseen. Production engineering involves the design, control, and continuous improvement of integrated systems in order to provide customers with high-quality goods and services in a timely, cost-effective manner. It is an interdisciplinary area requiring the collaboration of individuals trained in industrial engineering, manufacturing engineering, product design, marketing, finance, and corporate planning. The department has the following well-equipped laboratories:
Vision
Progress through education by effective integration of manufacturing technology and management science
Mission
To seek knowledge in the field of Manufacturing technology, Management and Quality engineering with the emerging technological concepts.
To strive continuous improvements in teaching–learning process through industry driven engineering excellence.
To achieve the needs of the society by providing adequate support with the application of innovative technology and quality-oriented education.

Program Educational Objectives (PEOs)

The program educational objectives of the Production Engineering undergraduate program are framed for educating the graduates towards ethical, productive and contributing members of society.

Production Engineering Department mainly focuses on the following Program Educational Objectives (PEOs).

PEO 1: Our graduates will apply their practical engineering and problem solving skills for productive, gainful, and ethical careers in manufacturing related industries and organizations.

PEO 2: Our graduates will continue life?long learning through professional activities and training, in the pursuit of higher education and individual professional achievements.

PEO 3: Our graduates will contribute to the professional practice of their chosen field through leadership, effective communication, teamwork and positive attitudes, while exhibiting high ethical and professional standards in fulfilling their responsibilities to both employer and society.

Program Outcomes (POs)

A. The ability to apply basic knowledge and adapt to emerging applications of mathematics, science, engineering and technology

B. The ability to define the problems and provide solutions by designing and conducting experiments, interpreting and analyzing data, and reporting the results.

C. The ability to apply creativity in the design of manufacturing systems, components and processes.

D. The ability to participate as members of engineering and science laboratory teams, as well as members of multidisciplinary design teams.

E. The ability to identify, analyze and solve technical problems and develop practical solutions for Production Engineering problems under professional and ethical constraints.

F. Knowledge of ethical and social responsibility expected of professionals working in the manufacturing engineering technology field.

G. The ability to communicate effectively.

H. An ability to understand the impact of manufacturing and management aspects in a global, economic, environmental and social context

I. Commitment to quality, timeliness, and continuous improvement.

J. Respect for diversity and a knowledge of contemporary professional, societal and global issues.

K. The ability to apply the knowledge, techniques, skills and modern tools of manufacturing technology to the solution of manufacturing problems.

L. Ability to combine their engineering and communication skills for fulfilling the requirements of society.
HOD

M.Tech., Ph.d*
More than 15 years teaching Experience
Worked as Officer in IAF


04885287751 Ext : 286
Previous Experience :-
Associate Professor in the Dept. of ME, VAST

From 2012 Jan- Till 31 July 2017
Assistant Professor in the Dept. of ME, VAST

From 2006 Sep- 2012 Jan
Lecturer in the Dept. of ME in VAST

From 2004 Jul- 2006 September
Ad-hoc lecturer in the Dept. of ME, NIT Calicut

From 2004 Jan - 2004 June
Lecturer in the ME Dept. of Oriental Institute of Science and Technology, Bhopal

From 2002- 2004
Senior Non Commissioned Officer in IAF engaged in the maintenance of aircraft and associated mechanical, electrical and electronic systems.

From 1991-2002
Areas of Interest :- Thermal energy storage systems
Infrastructure
Production Engineering Lab I & II
Metrology Lab
Instrumentation Lab
Advanced Manufacturing Science Lab
Industrial Engineering Lab
Activities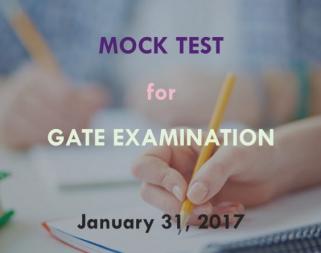 A mock test was conducted for the final year B. Tech PE students (2013 Admission) on Tuesday, January 31, 2017 prior to GATE examination to be held in February. 22 students registered and participated in the exam. The examination was conducted with the coordination and support of Placement Cell and Library. The following students gained top 3 grades.
Ahsanath A T
Tony P Lorance
Sudheesh T S
Workshop on safety awareness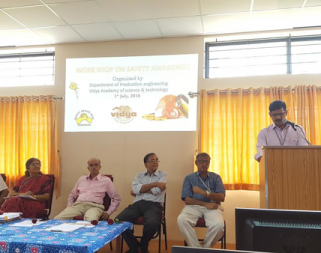 A one day work shop on safety awareness was conducted on 01.07.2016, by PE department. The workshop was meant for lab staff in all departments and also Engg. Staff. The resource person was Mr V. Satheesan, Retd. Safety Manager from M/s Apollo Tyres, Kalamassery. The workshop was held in two sessions from 09:30 AM to 04:00 PM. As per the feedback received, the workshop was highly useful to all the participants.
A career awareness talk by Mr. Ramesh Chandra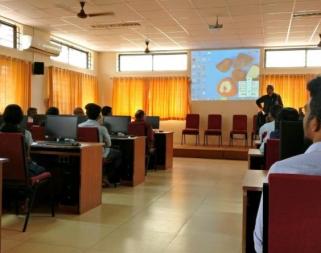 A career awareness talk for the final year B. Tech PE students (2013 Admission) was given by Mr. Ramesh Chandra, CeFire Global, Thrissur on Wednesday, January 25, 2017. The session was mainly aimed to bridge the gap existing between academia and industry. Mr. Ramesh Chandra encouraged and motivated students about the need for acquiring entrepreneurial skills and be industry ready to meet the complex industry needs in a highly competitive and demanding market. Mr. Paul Chakola, Head of T&P, welcomed the gathering, Dr. Sudha Balagopalan, Principal, delivered the Presidential address, and Mr. Rajendran T K, HOD, PE, delivered the felicitation address.
Contact Us
+ 91 9847490416
04885 287751/52, Ext : 286
pehod@vidyaacademy.ac.in
Achievements
PE student gets first prize in Mimicry

Vyshak V (S8 B Tech (PE)) secured First Prize in Mimicry in the Calicut University Inter-Zone Arts Festival held at Sreekrishna College,...

S7 PE student gets merit award by AEA

Nandini R. of S7 B. Tech. (PE) got the merit award in a function organized by Architects & Engineers Association (AEA) as part of the 50th...

Best Student Award : Alumni Achievement

Munawar Salih (2010-14 batch alumni) achieved "Best Student of the Year 2016" Award for representing ITM Business School, Mumbai in various...

PE Faculty Suneesh E awarded Ph.D

Mr. Suneesh E (Asst Prof, PE Dept), who was on leave from the College for pursuing doctoral studies at Noorul Islam Centre for Higher...

PE student secures Second Rank in Calicut University

Anna Benny, student of B Tech (PE) 2016 passed out batch, secured the Second Rank with CGPA 8.90 in Calicut University Examinations 2016.

All-India-inter-university championship-2016-17

Mr. Suhail Mohammed of PE S6 has represented Calicut University SepakTakraw team in the All India Inter-University Championship and secured...

University Topper

Lakshmi Rajan P
Information
Address
Vidya Academy of Science & Technology
Thalakottukara P.O., Kecheri, Thrissur - 680501, Kerala, India
Phone: +91 4885 287751, 287752
Fax: +91 4885 288366
E-Mail: principal@vidyaacademy.ac.in
locate us
Affiliated to APJ Abdul Kalam Technological University & Approved by AICTE | ISO 9001 : 2015
Copyright © 2019, www.vidyaacademy.ac.in. All Rights Reserved.