Vidya Academy of Science & Technology
A unit of Vidya International Charitable Trust
Electronics & Communication Engineering

Phone / Email
04885287751
04885287752
ecehod@vidyaacademy.ac.in
About Us
ABOUT
The aim of the department is to help the students develop the ability and mental precision necessary to analyze, interpret and disseminate knowledge to be creative in ECE. The department has highly qualified and dedicated staff committed towards teaching, research and development. Besides all, the department of ECE has well equipped laboratories with updated facilities. Besides providing strong fundamentals in basic Sciences and Engineering subjects, greater emphasis is made to enable our students to acquaint with rapidly evolving technologies like VLSI and Embedded Systems, Analog and Digital Signal Processing, Microwave and Mobile Communications etc.
The department takes keen interest in organizing workshops, seminars, conferences, paper contest, project contest, pre-placement training and Faculty development programs (FDP) for the benefit of student and faculty members on a regular basis. All the students of ECE department are gainfully placed in reputed organizations or they opt for higher studies in India or Abroad.
Department of Electronics and Communication Engineering accredited by the ISO 9001:2008. The different professional bodies ISTE, IETE and IEEE of the department impart latest knowledge to students by making them participate in different events. The Faculty of ECE follows outcome based education model, to ensure the best results with expected outcome. Department always aim for a consistency in quality improvement by taking feedback from students, parents, alumni, iindustries and Professional bodies.
PEOs & PSOs
Program Educational Objectives (PEOs) - ECE Dept.
PEO1 : Enabling our graduates to be good at analysing and solving problems.
PEO2 : To help our graduates get hands on experience in design and implementation.
PEO3 : To make our graduates competent to go for higher education and do research utilizing advanced tools and techniques.
PEO4 : Provide our graduates good communication skills to work in a multidisciplinary environment.
Programme Specific Objectives (PSOs) - ECE Dept.
PSO1: Create an ability to understand the theoretical concepts in Electronics and Communication Engineering and apply them in design, fabrication and testing areas like Electronics, Communications, Signal Processing, VLSI, Embedded systems and in future enhancements in this area.
PSO2: An ability to solve complex Electronics and communication Engineering problems, using latest hardware and software tools, along with analytical and managerial skills to arrive appropriate solutions, either independently or in team.
HOD
Ph.D, M.Tech, BE, MBA, F I E, C. Engg (I), MISTE, MIEEE
swapnakumar.s@vidyaacademy.ac.in
Previous Experience :- 11 years in Industries and 10 years in teaching Institutions.
Areas of Interest :- Wireless sensor networks, Data communication, Mobile Computing, Artificial neural networks, Fuzzy logic, Cross-layer optimization and MATLAB. Other contribution areas Reviewer of the International and National Journals. University Guide for supervising the Ph.D. research scholars. Indian Examiner for evaluating of Ph.D. Thesis. Publications Journals: 11- International papers, 02- National papers and 04- Institutional publications. Conference: 10- International and 06- National. Citation Indices: 58. Books Books: 02 (A Guide to Wireless Sensor Networks, MATLAB Easy ay of learning).
Adjunct
Mr.BALAN K.
An Electronics & Tele communication Engineer having 40+ years of experience, out of which 15 years functioned as member of director board for various companies, as CEO & Managing Director for Keltron Electro ceramics Ltd. (a Kerala Govt State PSU) , as Technical Advisor for Aerogel Super capacitor Project in Centre for Materials for Electronics Technology (C –MET), Govt. of India, Thrissur, as Senior Project Director for Private limited companies etc.
Dr. LENINA VITHALRAO BIRGALE
Assistant Professor in the Department of Electronics and Telecommunication ,S.G.G.S. Institute of Engg. & Technology, Vishnupuri, Nanded and Woman Scientist (WOS-C), Department of Science and Technology, India, trained at CSIR?s URDIP, Pune.
Mr.RADHAKRISHNAN
An Electronics & communication Engineer worked with IBM 1401 computers as service manager,BPL Limited as service manager.
Ms.ABITHA BABU M.
Engineer with 8+ years of industry experience in the areas of Python programming, embedded software programming, Hardware-in-loop (HIL) systems, test automation, Matlab / Simulink and wireless communication. Worked in Hybrid Electric Vehicle department of Daimler & Chrysler,Michigan, USA and G4 Matrix Technologies, India.
Mr.SREEKANTH M.G.
Engineering professional with 18+ years of industry experience in the areas of automotive electronics, embedded software programming, python programming, test automation and project management. Worked in companies like Siemens, Continental Automotive and Visteon, developing engine ECU (Electronic control unit) software for OEMs like General Motors, Ford, Chrysler and BMW.
Syllabus
APJ ABDUL KALAM TECHNOLOGICAL UNIVERSITY ( KTU )
B.TECH SYLLABI
CALICUT UNIVERSITY
Infra
Laboratories and other facilities

As per the Calicut University as well as APJ Abdul Kalam Technological University ( KTU ) syllabus, laboratory education is an important part of the engineering curriculums. Department of ECE has seven laboratories which represent to the curriculums for different semesters. With the rapidly changing technological trends in the field, the department constantly modernizes its infrastructure facilities to keep abreast. At present the Department of Electronics and Communications Engineering constitutes of following labs:

1. Basic Electronics Lab - MB-1-109
2. Digital and Communication Lab - MB-1-114
3. Advanced Communication Lab - MB-2-206
4. Microprocessor and Microcontroller Lab - MB-0-003
5. VLSI & Advanced Simulation Lab - MB-2-207
6. Electronics Project Lab - MB-2-206A
7. PG Embedded System Lab - MB-0-011A

The lab includes some of the latest versions software and hardware such as Xilinx, Spartan FPGA Kits, μVision KEIL IDE & ARM, OrCAD, MATLAB, DSP Controllers, Digital Storage Oscilloscope etc.
Photographs of various Labs


Achievers
UNIVERSITY RANK HOLDERS - UNIVERSITY OF CALICUT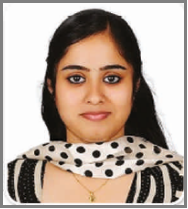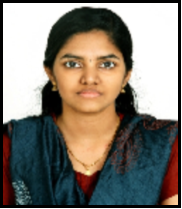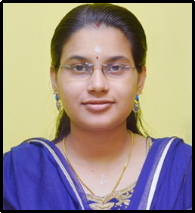 NEETHU MOHAN APARNA M.D. ANJITHA V.
1st RANK - (2011-2015) 4th RANK - (2010-2014) 3rd RANK - (2006-2010)
Activities
Hands-on training on "Arduino Basics & IoT applications"
A 2-days Hands-on Training workshop was conducted for final year and pre-final year students of Goverment Women's Polytechnic College, Nedupuzha, Thrissur on 11th& 12th February 2017 by Department of ECE, VAST. The sessions were handled by Mr. Ramesh CR & Mr. Rakesh VS, Asst. Professors, ECED, VAST. A total of 38 students (27 final year & 11 second year) attended the workshop. Dr. Sudha Balagopalan, Principal, VAST welcomed the students & faculty members accompanied them to Vidya Academy of Science & Technology and to the 2 days workshop. The sessions covered Basics of Arduino prgoramming (Digital I/O, ADC, UART) on Arduino UNO & Node MCU ESP 2866 boards on the first day and IoT applications (WiFi Webserver creation, Local host creation & embedded html based website creation with Automation & Monitoring) on the 2nd day. All the participants had chance to Do-It-Yourself and understand the concepts.
Mr. Dileep K, Associate Professor, ME Department delivered a talk on " Why do we need Degree? Its impact in our career & life". Mr. Krishnaprasad M K, Manager ITD spoke on vision & mission of VICT and what Vidya Group of Institutions can offer for the participants.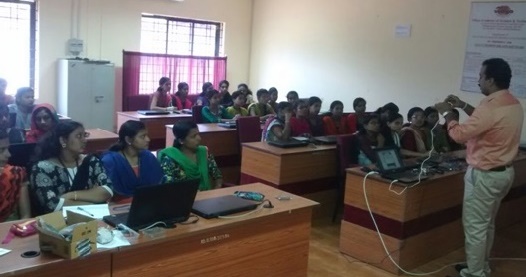 Hands-on training on "ETHICAL HACKING"
The Department of ECE, VAST in association with Institution of Electronics and Telecommunication Engineers (IETE) and Institution of Engineers (India) organized a 3 Days hands on training Programme on ETHICAL HACKING on 18/01/2017, 19/01/2017 & 01/02/2017 .
Mr. Shanil K N opened the session with hacking a system( Windows 7). He covered the following areas
Introduction to Ethical Hacking
System Hacking (Windows 7 and Windows XP)
Un Authorized access to a system, Password Hacking etc.
Mobile phone Hacking
Social Engineering
Session Hijacking
WIFI Hacking
SQL Injection
After the installation of Kali Linux Software in computers, Ms.Vandana M opened up the session " Hacking and Cracking". She explained the importance of Ethical Hacking and its types. Ms. Amritha Babu continued the talk by delivering the topic "TCP/IP and packet transferring". She gave an in depth idea about TCP/IP model and packet transferring techniques. She explained the SSL layer which is to be incorporated for security. The various encryption schemes used in SSL was delivered by Ms. Sarika K T . She gave an overview of Cryptography and Web Security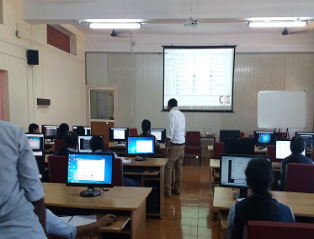 3 Day Faculty Development Programme in "Python programming in Image processing and Machine Learning"
Dept of Electronics and Communication Engineering organized a three Day Faculty Development Programme in "Python programming in Image processing and Machine Learning" in association with Institution of Electronics and Telecommunication Engineers (IETE) , Indian Society for Technical Education (ISTE) and Institution of Engineers (India) from March 02nd to March 04th 2017. 54 participants were registered for the FDP. Dr. V.N. Krishnachandran, Vice Principal,VAST, inaugurated the function. Resource person Mr. Pankaj Kumar G, Asst. Professor, FISAT, briefed about the three day workshop sessions.
First day started with basics of python programming with examples, such as conditional and loop programing, functions in python programing etc.In the second day, Mr. Pankaj introduced python classes and dictionary, and also explained how to import python module. All participants installed Open CV and done image file writing and reading.Third day started with 'Video stabilization'. Further, image processing applications like face recognition and feature extraction were discussed. Finally, some introductory basics of Machine learning was also explained.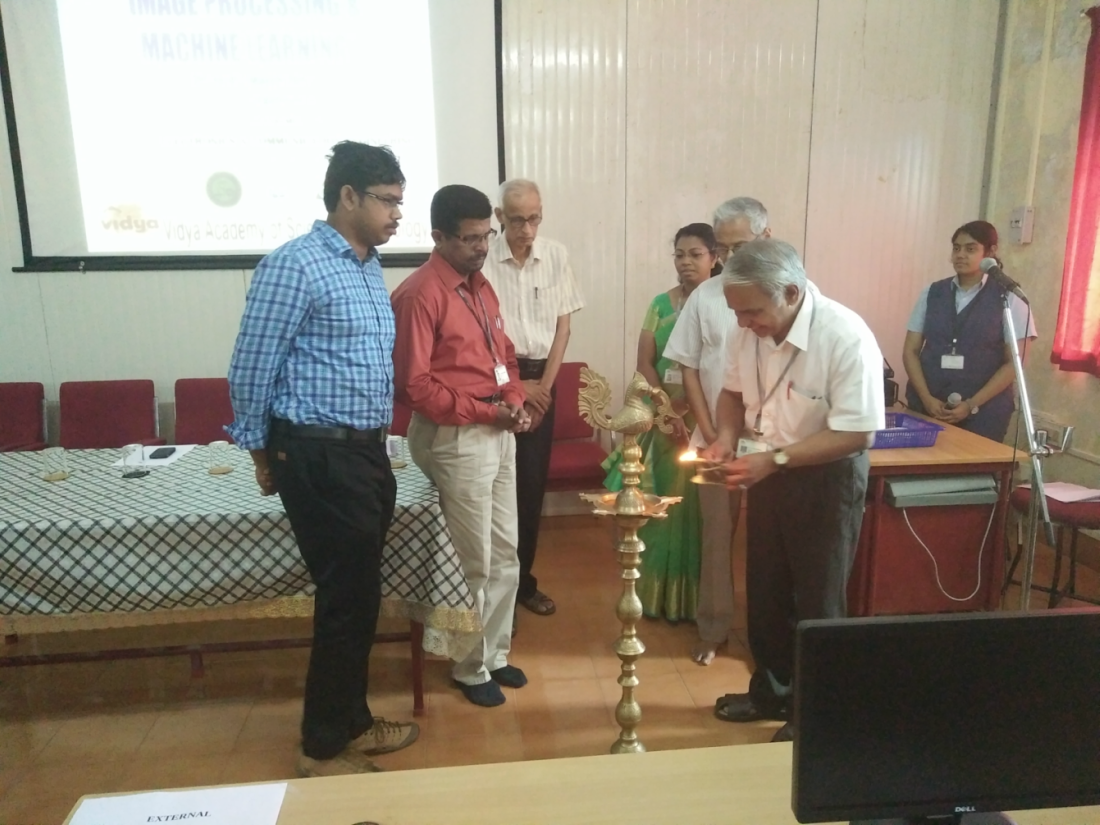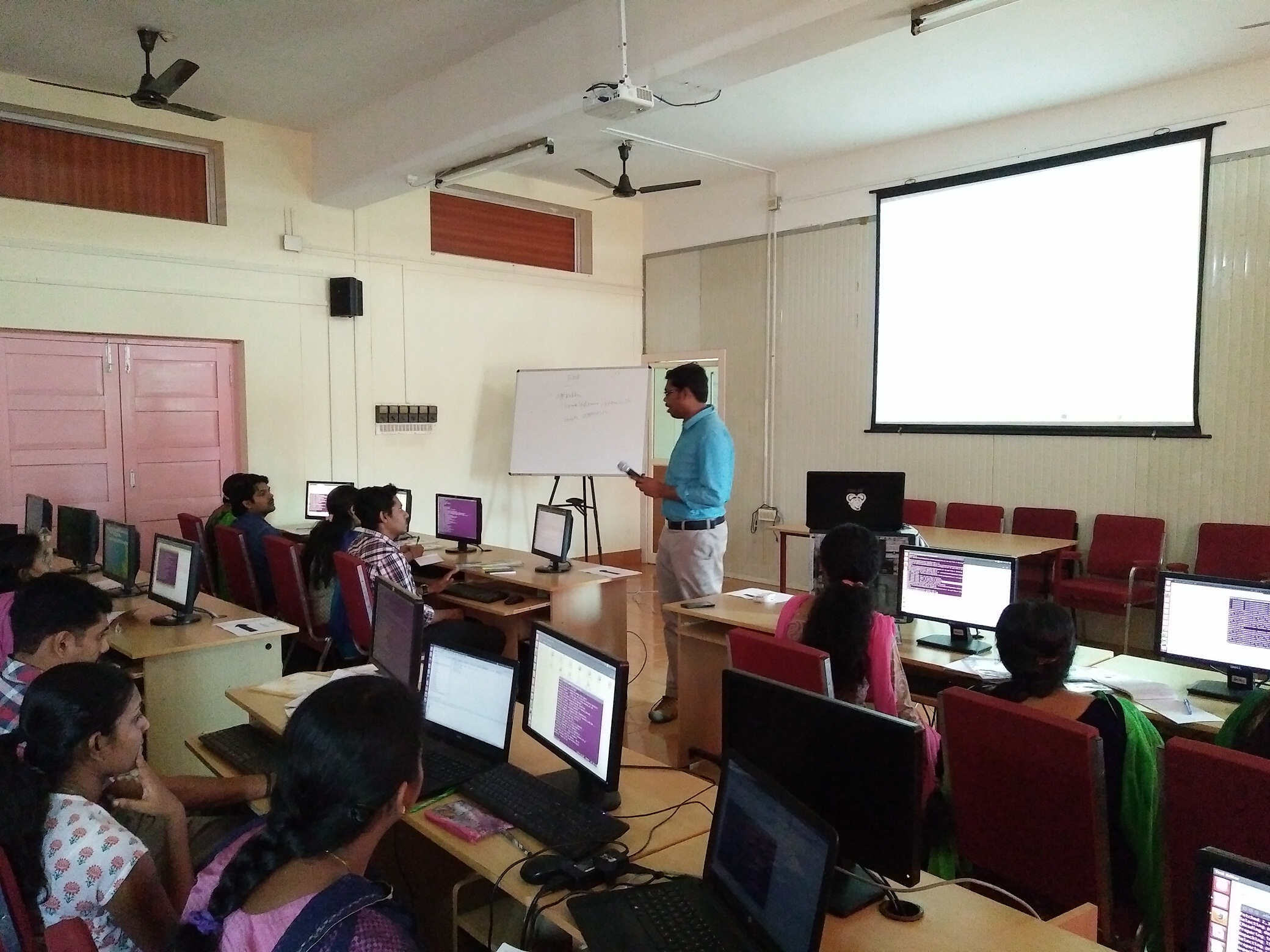 Contact Us
Dr. SWAPNAKUMAR, HoD ,ECE
e-mail: swapnakumar.s@vidyaacademy.ac.in
ph.no:(+91) 4885 287751/52 Ext : 119
ECE FACULTY ROOM 1- EXTENSION NO.--114
ECE FACULTY ROOM 2- EXTENSION NO.--159
ECE FACULTY ROOM 3- EXTENSION NO.--149
Achievements
ECE Dept gets financial assistance from KSCSTE

The proposal for organising a conference titled "National Conference on Advanced Innovations in VLSI, Embedded Systems, Signal Processing &...

MoU for academic alliance between KELTRON and College

An MoU establishing an academic alliance between the College and Kerala Electro-Ceramics Ltd (KELTRON) has been signed on 30.10.2017.

Rank Holders

B.Tech ECE students with top positions in the Calicut University (2011-15)

ECOSYSTEM AWARD 2017

Sarath Sasikumar, Sethu E.P of s4 EC B and Athul of s4 EC A [2015 admn] won the first prize in Dr. APJ Abdul Kalam Innovation Ecosystem...

VAST Enters to MoU with CDAC Trivandrum

VAST Enters to MoU with CDAC Trivandrum Vidya Academy of Science & Technology and CDAC-Trivandrum signed Memorandum of Understanding (MoU)...

University Topper

Neethu Mohan
Information
Address
Vidya Academy of Science & Technology
Kurumal,Thalakottukara P.O., Near Kaiparambu, Thrissur - 680501, Kerala, India
Phone: +91 4885 287751, 287752
Fax: +91 4885 288366
E-Mail: principal@vidyaacademy.ac.in
locate us
Affiliated to APJ Abdul Kalam Technological University & University of Calicut Approved by AICTE | ISO 9001 : 2008
Copyright © 2016, www.vidyaacademy.ac.in. All Rights Reserved.