Vidya Academy of Science & Technology
A unit of Vidya International Charitable Trust
IETE Student's Forum (ISF) receives Best ISF Award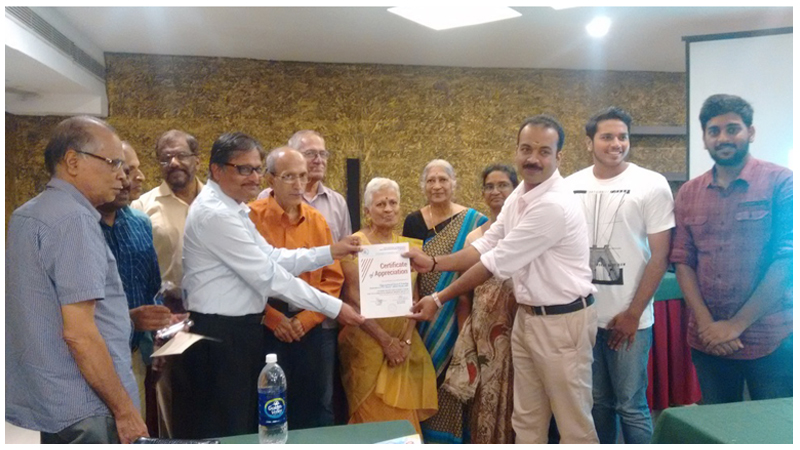 IETE Student's Forum (ISF) in Vidya receives Best ISF Award
The IETE Students' Forum (ISF) in Vidya has been bestowed the Best ISF Award for the year 2017 – 18 by the IETE Kochi Centre. The award was instituted in memory of (Late) Prof M N Namboodiripad (Founder of IETE Kochi Centre). The award has been instituted to promote innovative and futuristic activities by the Electronics and Telecommunication Engineering students. The award comprises of an appreciation certificate, a citation and an amount of Rs.10000/-. The ISF-Vidya was selected for the award "considering their commendable performance during the last few years."
The award was distributed on the occasion of the Annual General Body Meeting of IETE Kochi Centre held on 24 June 2018 at Hotel Woods Manor, Kochi. Mr Ramesh C R (AP, ECE Dept), Staff Advisor ISF-Vidya, Mr Vijayakrishnan I, Student Chairman ISF-Vidya, and Mr Hrishikesh P V, Student Treasurer ISF-Vidya, and Mr Aftab Ashraf, Past Vice Chairman ISF-Vidya, represented ISF-Vidya to receive the awards.
Information
Address
Vidya Academy of Science & Technology
Thalakottukara P.O., Kecheri, Thrissur - 680501, Kerala, India
Phone: +91 4885 287751, 287752
Fax: +91 4885 288366
E-Mail: principal@vidyaacademy.ac.in
locate us
Affiliated to APJ Abdul Kalam Technological University & University of Calicut Approved by AICTE | ISO 9001 : 2015
Copyright © 2018, www.vidyaacademy.ac.in. All Rights Reserved.