Vidya Academy of Science & Technology
A unit of Vidya International Charitable Trust
Second Prize in SWACHHATHON 1.0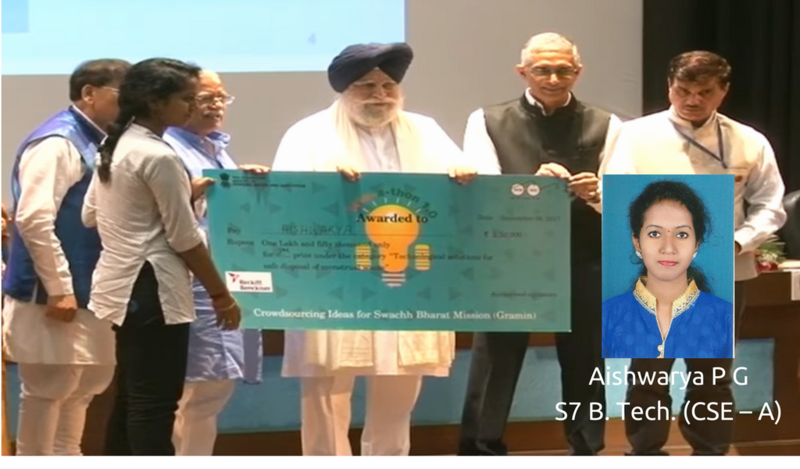 Aishwarya P G of S7 B. Tech. (CSE – A) was awarded the Second Prize in Swachhathon 1.0, the first ever Swachh Bharat Hackathon, conducted by Union Ministry of Drinking Water and Sanitation for sanitation technology solutions, on 8 Sept 2017 at New Delhi. She was awarded the Prize in the category of "Technological solutions for safe disposal of menstrual waste". The prize carries a cash component of Rs.1,50,000.
The Hackathon had received a massive response from across the country, with 3053 entries received overall with 633 entries in triggering behaviour change, 229 in early decomposition of faecal matter, 750 in monitoring usage of toilets, 552 in maintenance and operations of school toilets, 405 in Technological solutions for safe disposal of menstrual waste and 484 in Toilet Technologies in Difficult terrains categories.
Information
Address
Vidya Academy of Science & Technology
Thalakottukara P.O., Kecheri, Thrissur - 680501, Kerala, India
Phone: +91 4885 287751, 287752
Fax: +91 4885 288366
E-Mail: principal@vidyaacademy.ac.in
locate us
Affiliated to APJ Abdul Kalam Technological University & Approved by AICTE | ISO 9001 : 2015
Copyright © 2023, www.vidyaacademy.ac.in. All Rights Reserved.