Vidya Academy of Science & Technology
A unit of Vidya International Charitable Trust
National Science Day ( AION-2017:Science Fest ) Celebration
Latest News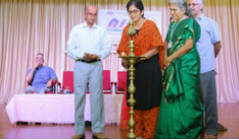 National Science Day (NSD) is celebrated in our country on 28th of February every year in order to commemorate the invention of the Raman Effect in India by the great physicist, Sir Chandrasekhara Venkata Raman on the same day in the year 1928.
Information
Address
Vidya Academy of Science & Technology
Thalakottukara P.O., Kecheri, Thrissur - 680501, Kerala, India
Phone: +91 4885 287751, 287752
Fax: +91 4885 288366
E-Mail: principal@vidyaacademy.ac.in
locate us
Affiliated to APJ Abdul Kalam Technological University & Approved by AICTE | ISO 9001 : 2015
Copyright © 2023, www.vidyaacademy.ac.in. All Rights Reserved.