Vidya Academy of Science & Technology
A unit of Vidya International Charitable Trust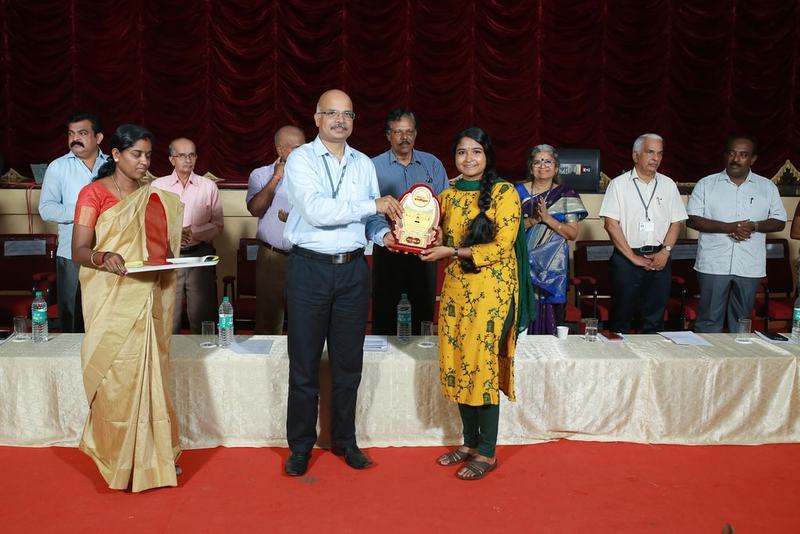 One of the main activity conducted during the annual General Body Meeting of the Parent Teacher Association (PTA) of Vidya held in the College Auditorium on 31 August 2019 was honouring three different sets of outstanding students of Vidya.
A set of 54 students who are class toppers (second and third positions) in University Examinations conducted in the academic year 2017 - 18: They were honoured with the award of cash prizes and certificates.
A set of 59 students who have been awarded the B Tech (Honours) degree by APJAKTU: they were presented with mementos as a recognition and appreciation of their achievements.
A set of 10 students (six regular B Tech students and four lateral entry B Tech students all admitted in 2017) who have been selected for the award of scholarships instituted by the PTA: They were presented with certificates indicating the award of scholarships.
The General Body Meeting began at 10.00 am with an invocation and a welcome address by Mr Manesh D (Jt Secretary, PTA and AP, MCA Dept). Adv Methil Venugopalan, President, PTA, presided over the meeting. After the addresses by Dr Saji C B, Principal and Mr Suresh Lal, Director - Administration and Finance, Mr P Velayudhan (Secretary, PTA) presented the annual report of the Association. After the approval of the report by the members present, Mr Krishnakumar M (Treasurer, PTA and AP, EEE Dept) presented the annual accounts which was also approved by the members present. Dr Sudha Balagopalan, Dean - Academics, Dr V N Krishnachandran, Vice-Principal, and Er G Mohanachandran, Executive Director offered felicitations.
During the interaction session, many parents came up with constructive suggestions for the further strengthening of the activities of the PTA. A new set of Executive Committee members representing the parents were also elected.
The meeting came to an end with a vote of thanks by Mr Suresh K Karun, Vice-President, PTA.
Rules for B Tech (Honours) degree
Institutions having at least two NBA accredited B.Tech/M.Tech programs can offer B.Tech(Honours).
The department concerned shall have at least one M.Tech in concerned stream, for B.Tech (Honours) registration
Only Students having no credit arrears and a CGPA of 8 or above at the end of the fourth semester are eligible to register for B.Tech (Honours).
After registering for the B.Tech (Honours) programme, if a student fails in any course he/she will not be eligible for B.Tech(Honours).
They have to earn additional 12 credits to complete the B.Tech (Honours) programme by registering for courses, each having a minimum of 3 credits.
Of these 12 credits, 6 credits are to be earned from M.Tech courses offered by the concerned department.
Remaining credits can be earned by registering for any of the following courses:-

Additional B.Tech Elective courses (three credits each)
MOOC courses offered by reputed institutions / organization with the approval of University (three credits each)
Summer program/project offered by IITs or IISc ( 3 credits)
Information
Address
Vidya Academy of Science & Technology
Thalakottukara P.O., Kecheri, Thrissur - 680501, Kerala, India
Phone: +91 4885 287751, 287752
Fax: +91 4885 288366
E-Mail: principal@vidyaacademy.ac.in
locate us
Affiliated to APJ Abdul Kalam Technological University & Approved by AICTE | ISO 9001 : 2015
Copyright © 2021, www.vidyaacademy.ac.in. All Rights Reserved.