Vidya Academy of Science & Technology
A unit of Vidya International Charitable Trust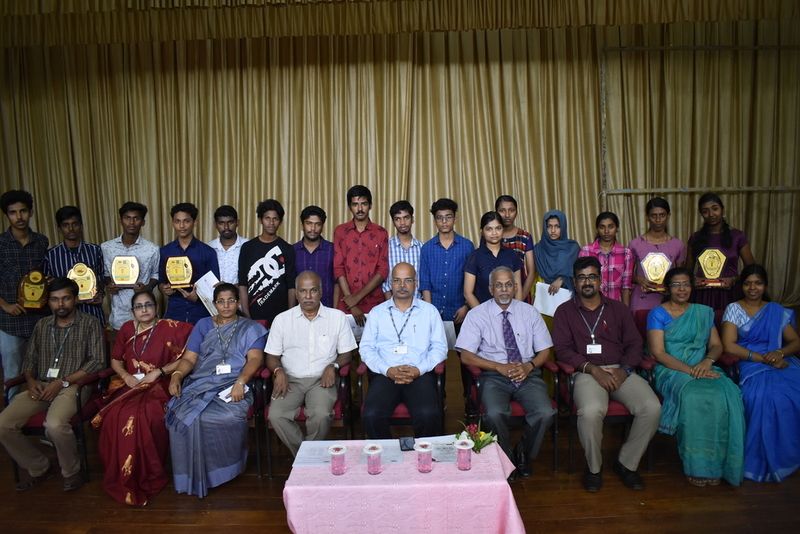 Mathrubhumi-QFiesta is a quiz competition for the students of Higher Secondary classes organised by Vidya in association with the Mathrubhumi daily newspaper. The competition was visualised as an attempt to provide a context and a platform for aspiring students to showcase their talents and to promote the cause of self-learning.
The competition was conducted at three levels: The preliminary round was held in the respective schools with the cooperation of school authorities. Selected students were required to appear for the semifinals which was conducted in the various computer labs of Vidya. Around 300 students participated in the semi-finals. From the semi finals 10 students qualified into the finals. The final round was conducted in the College Auditorium with Mr Hareesh K (AP, ME Dept) serving as the Quiz-Master. The semifinals and finals were conducted on 23 December 2019.
The prizes for the winners were distributed by Dr V V Unnikrishnan, Academic Dean, Kerala University of Health Sciences in a function held in the College Auditorium.
Information
Address
Vidya Academy of Science & Technology
Thalakottukara P.O., Kecheri, Thrissur - 680501, Kerala, India
Phone: +91 4885 287751, 287752
Fax: +91 4885 288366
E-Mail: principal@vidyaacademy.ac.in
locate us
Affiliated to APJ Abdul Kalam Technological University & Approved by AICTE | ISO 9001 : 2015
Copyright © 2020, www.vidyaacademy.ac.in. All Rights Reserved.