Vidya Academy of Science & Technology
A unit of Vidya International Charitable Trust
VIDYA Students selected as Incubatee of NSRCEL@ IIMB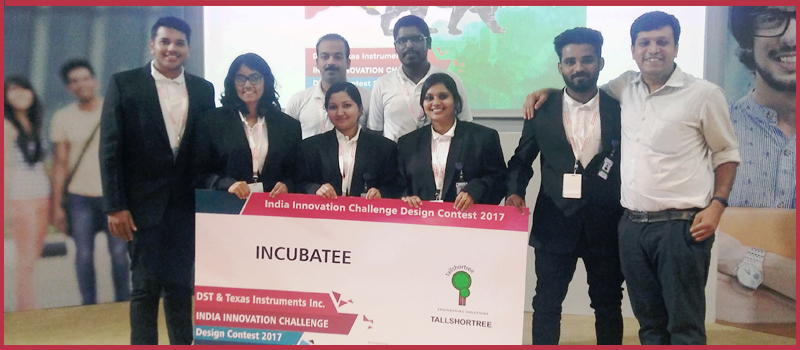 VIDYA Students selected as Incubatee of NSRCEL@ IIMB
The 5 member UG student team (AISHWARYA PRADEEP, AISWARYA RAJEEV, ANJALI P, AKASH SATHIAN P, AFTAB ASHRAF A V) mentored by Mr. RAMESH C R & Mr. RAKESH V S, Asst. Professors, DoECE has been selected as Incubatee at NSRCEL @ IIM Bangalore. The announcement was made during the grand finale held at IIM Bangalore on August 10 (Friday), 2018, in the presence of Dr. S. D. Shibulal, Co-founder of Infosys and Amarendra Sahu, CEO & Co-founder of NestAway Technologies Pvt. Ltd. Dr. Anita Gupta, Adviser and Associate Head, National Science & Technology Entrepreneurship Development Board (NSTEDB), Department of Science and Technology, Ministry of Science and Technology, Government of India, Douglas Phillips, WW Director, University Marketing Program at Texas Instruments, Sanjay Srivastava, Director Marketing, University Program at Texas Instruments, Professor Suresh Bhagavatula, Chair, NS Raghavan Centre for Entrepreneurial Learning at IIMB and Professor Gopal Naik, Dean Faculty, IIMB were also present at the event.
There were 20 teams who strongly contested in the Final Rounds and they were able to reach at Top 4th position by pushing back premier institutes namely IIT - Hyderabad, MAI Manipal, NIT Karnataka, SRM University, Unversity Visvesraya College of Engineering, Christ College of Engineering & Technology, Bangalore from reaching the Top 10 list.
The have been granted an amount of Rs. 20 lakhs for carrying out the startup establishing and offered 1 year incubation at NSRCEL Centre, IIMB. They are the one & only one team from Kerala for crossing the Semi-Finals & reaching the Final Round throughout the history of IICDC versions.
The team also received special appreciations from Mr. S D Shibulal (Co-Founder & Ex-CEO, Infosys) during his Special address in the Valedictory function. The team has come up with a conceptual implementation of Non - Invasive Hb Tester (B-Hue) and obtained 4 provisional Patents. The device belongs to the low cost category and for the 1st time in India.
The team has received quite a lot of enquiry for purchase and conduct of Hb Count determination camps at remote areas including the 101 villages selected under Amrita Serve Scheme (an initiative of Amrita School of Engineering, Coimbatore).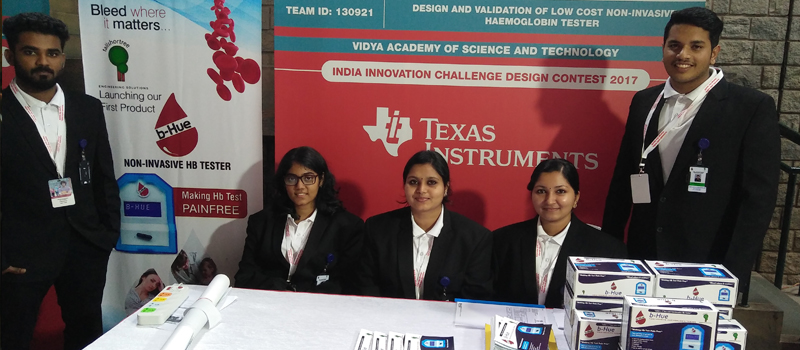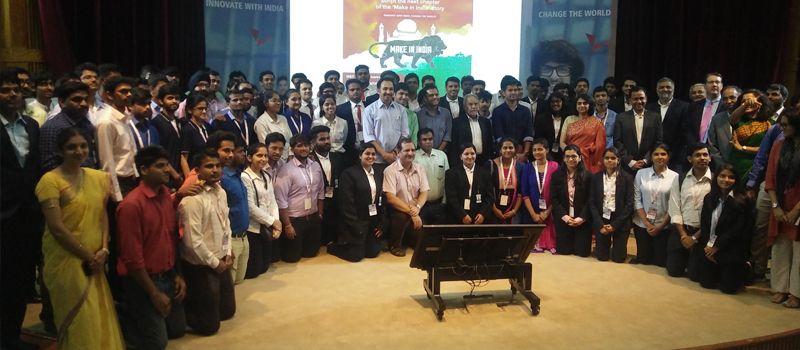 Information
Address
Vidya Academy of Science & Technology
Thalakottukara P.O., Kecheri, Thrissur - 680501, Kerala, India
Phone: +91 4885 287751, 287752
Fax: +91 4885 288366
E-Mail: principal@vidyaacademy.ac.in
locate us
Affiliated to APJ Abdul Kalam Technological University & Approved by AICTE | ISO 9001 : 2015
Copyright © 2022, www.vidyaacademy.ac.in. All Rights Reserved.