Vidya Academy of Science & Technology
A unit of Vidya International Charitable Trust
Vidya students bag Overall Championship in SANSKRITI'19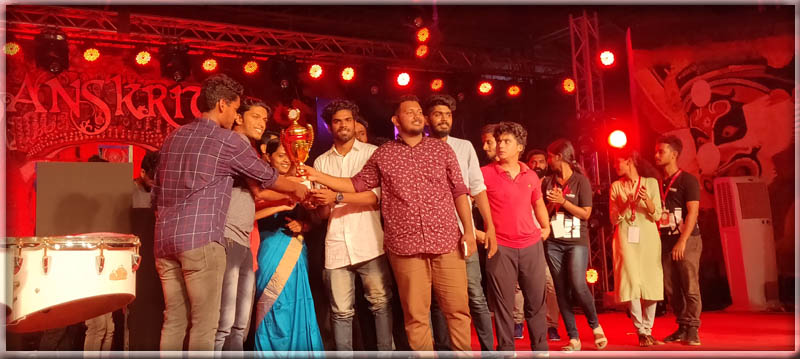 Vidya students bagged the Overall Championship in SANSKRITI 2K19 held on 28 to 30 March 2019 at MA College, Kothamangalam. The following were the events in which the Vidya's students had secured prizes:
1. Monoact – 1st (MCA)
2. Naadanpaatu – 1st and 3rd (ME)
3. Kolkali – 2nd and 3rd (ME) and
4. Vattapaatu – 1st (CE) and 3rd (ME)
5. Mappilapattu -1st and 2nd (CE)
Students List:
VATTAPATTU FIRST
Naveen CS S4 CE B
Nandakishor CH S4 CE B
Fayad S4 CE A
Ayoob A Zainudheen S4 CE A
Muhammed Afnan CA,S4 CE B
Mohammed Yousef S2 CE-B
Ajosh Jojo, S2 CE A
Mohammed Nasif , S4 CE B
SREYAS K S, S4 CE B
Sanjo Savio S2 CE-B
MONOACT FIRST
NAADANPATTU FIRST
Arjun K A- S8 ME A
Akhil Venugopal M- S8 ME A
Ananthu A S- S8 ME A
Himath Chandran- S8 ME A
Jishnu T Santhosh- S8 ME A
Abhijith Rajan- S8 ME A
Amal M S- S6 ME A
NAADANPATTU THIRD
Anugrah J- S6 ME A
Akash K V- S6 ME A
Abhiram K- S2 ME A
Sreehari- S4 ME B
Amal Deva- S2 ME A
Renjith- S6 ME B
Umer Farook- S6 ME B
KOLKALI SECOND
Agilesh V-S8 ME A
Kevin George-S8 ME A
Nadeem Ibrahim-S8 ME B
Abijith C A-S8 ME A
Ramkumar- S8 ME B
Sebin Johnson- S8 ME B
Sanjay- S8 ME B
Mohammed Jiyad- S8 ME B
Alex Vilson- S8 ME A
Kiran Denas- S8 ME A
Umer Farook- S6 ME B
Salsabeel- S6 ME B
KOLKALI THIRD
Mohammed Sabeer Ali- S6 ME B
Govind- S6 ME A
Rahul- S4 ME B
Athul- S4 ME
Amal- S4 ME A
Arun- S2 ME A
Shereef- S2 ME B
Arjun-S2 ME A
Aron- S2 ME A
Jimnas- S2 ME A
Sreenand- S2 ME B
Sreedesh- S2 ME B
VATTAPPAATTU THIRD
Agilesh V-S8 ME A
Gokul- S8 ME A
Mohammed Jiyad- S8 ME B
Nidhin Radh- S8 ME B
Naveen P- S8 ME B
Nandagopan- S8 ME B
Sabid- S8 ME B
Navnit- S2 ME B
Mohammed Anas- S2 ME B
Salsabeel- S6 ME B
MAPILAPATTU
Information
Address
Vidya Academy of Science & Technology
Thalakottukara P.O., Kecheri, Thrissur - 680501, Kerala, India
Phone: +91 4885 287751, 287752
Fax: +91 4885 288366
E-Mail: principal@vidyaacademy.ac.in
locate us
Affiliated to APJ Abdul Kalam Technological University & Approved by AICTE | ISO 9001 : 2015
Copyright © 2022, www.vidyaacademy.ac.in. All Rights Reserved.