Vidya Academy of Science & Technology
A unit of Vidya International Charitable Trust
Mobile app for Quality Analysis of vegetables
A project by a group of S8 B Tech (CSE) students of the College was sufficiently novel in concept and design that it got highlighted in the Malayalam newspaper Malayala Manorama on 20.04.2018. The project titled "Quality Analysis and Estimation of Freshness and Pesticide Residue in Non Organic Fruits and Vegetables using IoT" was to design an Android mobile app to recognize the quality of fruits and vegetables with the help of sensors. The project team consisted of the students Sandeep K B, Mridhula V Mohan, Sachin and Saivandana.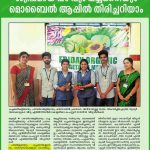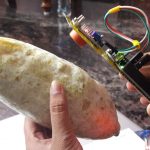 Information
Address
Vidya Academy of Science & Technology
Thalakottukara P.O., Kecheri, Thrissur - 680501, Kerala, India
Phone: +91 4885 287751, 287752
Fax: +91 4885 288366
E-Mail: principal@vidyaacademy.ac.in
locate us
Affiliated to APJ Abdul Kalam Technological University & Approved by AICTE | ISO 9001 : 2015
Copyright © 2023, www.vidyaacademy.ac.in. All Rights Reserved.