Vidya Academy of Science & Technology
A unit of Vidya International Charitable Trust
CE Dept conducts five-day workshop on Data Science as part of CLEP
Latest News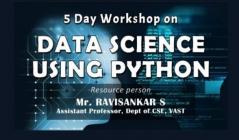 The Comprehensive Learning Enhancement Program (CLEP) is a forum formed in the CE Dept of Vidya with the objective of improving learning outcomes using an active learning environment to enhance the integration of practice and theory in the classroom.
Information
Address
Vidya Academy of Science & Technology
Thalakottukara P.O., Kecheri, Thrissur - 680501, Kerala, India
Phone: +91 4885 287751, 287752
Fax: +91 4885 288366
E-Mail: principal@vidyaacademy.ac.in
locate us
Affiliated to APJ Abdul Kalam Technological University & Approved by AICTE | ISO 9001 : 2015
Copyright © 2020, www.vidyaacademy.ac.in. All Rights Reserved.